<09/23/2016>
-

Added a infobox template.
To use infobox page, you can make use of the custom Chracter template I used here 
(http://new-game.wikia.com/wiki/Template:Character)

There are spoilers ahead. Feel free to edit information as you please

Appearance
Edit
Red hair and have a rather busty body, almost opposite to Aoba in just about every way, from physique to personality. She also have blue eyes and ties some of her hair towards her left side.
Personality
Edit
In contrast to Aoba. She is usually a quiet, reserved, and serious person to the point that jokes tends to went over her head. Takes her rivalry with Aoba seriously, but can be a bit of a slob when at home. She also really loves to eat and tends to eat large meals.
Even though she officially appears in Volume 6 of the manga, there is a glimpse of her on Volume 4 Episode 51
The meaning of her name is "Red Leaves". Similar to Suzukaze Aoba, which means "Blue Leaves"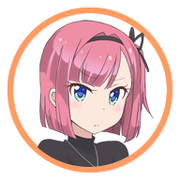 Ad blocker interference detected!
Wikia is a free-to-use site that makes money from advertising. We have a modified experience for viewers using ad blockers

Wikia is not accessible if you've made further modifications. Remove the custom ad blocker rule(s) and the page will load as expected.